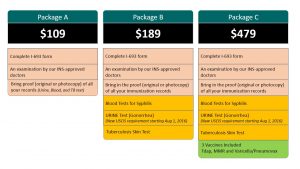 Patients are advised to bring the following to their appointment:
Government issued photo ID such as a Driver's license or passport
A copy of any prior immunization/vaccinations/shot records
Prior chest x-rays and/or other diagnostic tests
Any mental health records
A completed version of the most recent Immigration Physical Form I-693
After the exam:
Once the immigration physical examination is completed, Apollo Physicians will certify Form I-693 with the test results of the immigration exam and vaccination history in a sealed envelope to present to the Department Of Homeland Security and U.S. Citizen and Immigration Services. Do not open the sealed envelope. Turn in the envelope with your immigration application. You will be contacted when your results are ready to be picked up.